The information displayed in public maps and actions that can be taken by website visitors can be customized to suit your needs.
Public Map Legend
By default, a LotWorks public map uses different terminology and colours. These are tailored to a home buyer audience instead of a builder/developer one. The default colours and labels can be customized as needed during the development of a public website map. 
The main difference is that Available (Public) lots include both Available and Builder Inventory lots from LotWorks. In the above example, Spec homes have also been renamed to Model Home.
Public Map Info Window
The lot details that are shown when a lot is clicked can also be customized to show more/less information on the website. By default, the following information is shown:
Lot Address (ex. Lot 14, Block 25, Phase 1)
Municipal Address (ex. 180 Belmont Terrace SE)
Sale Status (ex. Available)
Lot Type (ex. Walk-out)
Frontage (ex. 35.00 ft)
Additionally, if the lot is owned by a builder, contact details will be shown:
Builder Logo
Builder Name
Contact Details (Name, Phone Number, Email Address)
The contact details that are displayed can be changed in LotWorks under Community > Community/Project > Public Builder Contacts. By default, land developers will be able to assign a difference contact per builder per product type.
Actions
As LotWorks Maps are built upon the Google Maps engine framework, all standard Google Maps controls work on LotWorks Maps as well. This includes map movement, zoom, and even satellite view and street view options.
Clicking on a lot will open the LotWorks Info Window.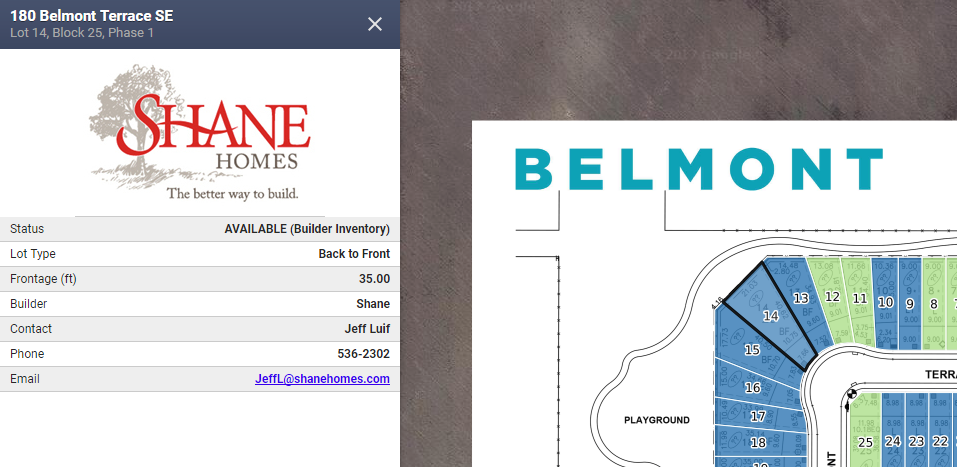 This Info Window contacts a linked email address for the builder contact, allowing users to quickly contact the appropriate person to obtain more information about the lot.